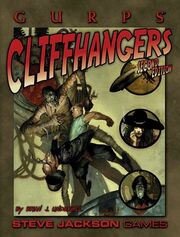 GURPS Classic: Cliffhangers involves the world of the dauntless men and daring women of 1920s and 1930s adventure tales seen in the pulps and the serials.
This is general information regarding the Era, the United States, South & Central America, Europe, Africa, Asia, and the rest of the world.
The Campaign
Edit
There is a lot to consider regarding a Cliffhanger campaign.
Hindsight vs. accuracy
Edit
Cliffhangers were a product of their time resulting in them being peppered with attitudes that verge on prejudice. Also while Nazis would become a cliffhanger staple that wouldn't happen until well into WWII.
Campaign Styles
Edit
Cliffhangers had a gamut of styles some of which were mixed together.
A good example of a mixture cliffhanger is The Phantom Empire (1935); it is a western with sci-fi elements and an ancient high tech civilization.
Crossover Campaigns
Edit
Any genre and era that lends itself to action, adventure, style, heroism, suspenseful endings, and high drama can be used in a Cliffhanger campaign.
Historical note
Edit
While this book covers the 1925-1939 period of cliffhanger stories the actual genre wasn't limited to that time period.
The Zorro serials were set in the (1769–1821) period, there were Western serials set in the mid to late 19th century[1], there were serials set in "contemporary" times appearing as late as 1955. [2] and the Buck Rodgers serial was set in the 25th century. Some serials were later edited into movies with mixed results.
Doctor Who from 1963 to 1989 followed the cliffhanger format with each story being a mini serial.
There was an attempt in 1979 to revive the genre for American TV with the Cliffhangers series. It didn't last long likely because it tried to run three separate serials together in the hour long time slot and none of the serials actually started at the beginning.
External Links
Edit
Additional Materials
Edit
References
Edit
↑ Blazing the Overland Trail (1956) is regarded as the last movie (Bijou) serial by a movie studio
↑ King of the Carnival (1955) was the last serial set in the then present time.