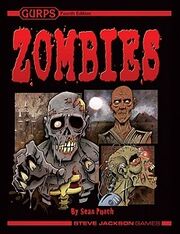 GURPS Zombies "goes into detail on all kinds of zombies – undead and living, slow and fast, supernatural and superscience, and more. Its pages include:
A rules-free survey of zombies by fictional and folkloric origin, physical and supernatural type, and dramatic role.
Systematic guidelines for creating custom zombies to surprise your players.
Ready-to-use examples for the zombie-master in a rush: B-movie and fantasy undead, living-but-infected crazies, necromancers' pets, science experiments gone horribly wrong, surgical constructs gone disturbingly right, and many others.
Rules for topics dear to the zombie-lover's heart: horde management, splatter and contagion, cures, and even inventing new kinds of zombies!
Information for those who must confront zombies, including gear recommendations, rules for avoiding infection and simply surviving, and templates for survivors, zombie-hunters, and zombie-makers.
Advice on using all this in any genre. Who says zombies are only for horror?"